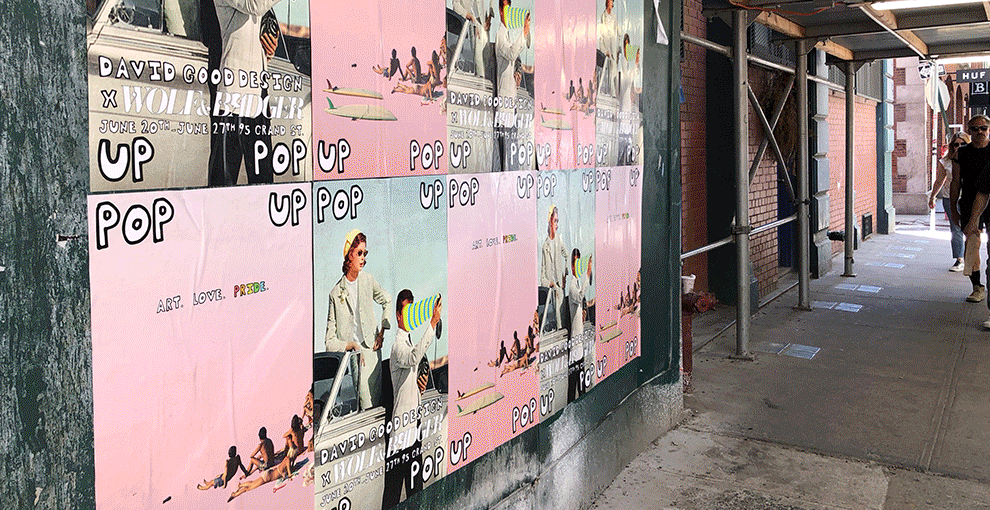 POP UP DAVID GOOD DESIGN x WOLF & BADGER
Wolf & Badger
SoHo, NY
2018

In celebration of LGBTQ+ Pride Month, I partnered with London-based boutique Wolf & Badger for a week-long Pop Up. I created a custom installation using digital picture frames, moss, found GIFs, and collage to explore how the Internet has blurred the lines between what is true and what is false.
DAVID GOOD DESIGN X LITTLE SKIPS
Little Skips Café
Bushwick, Brooklyn
2018

Little Skips, a buzzing Bushwick mainstay café curates bi annual shows to support local and emerging artists. Inspired by my roots of using Instagram as a medium to create, consume, and share art, I tiled the work in a 3x3 fashion to mirror the Instagram grid. Each piece was signed to reflect the obsession with self, particularly as it pertains to social media, self branding and content creation. The prints were for sale, however, the gold guilded frame with my hand written Instagram handle cost a hefty $15,000 as it's price was determined $1 per each follower on Instagram. As I gained and lost followers on Instagram, the price would fluctuate accordingly.
DAVID GOOD DESIGN
GG's Social Trade and Treasure Club
Brooklyn, NY
2017-Present

I was invited to showcase work at GGs Social Trade and Treasure Club in Brooklyn, NY (2017). GGs is "a cooperative vintage shop, art gallery, and community organization that provides a playful third space for intersectional collaboration, social entrepreneurship, and alternative movement building." The main attraction of the exhibition, namely the phallic toy, is a piece I created when exploring God. The juxtaposition of the dildo nailed onto a plaque against a pink background, placed high humorously subverts notions of gender, patriarchy, and power.
I completed my M.F.A in Communications Design at Pratt Institute in 2017. I focused on the evolution of art since the invention of the computer. I looked at hundreds of digital art works and wondered "if life imitates art, then what do GIFs and memes say about life now?" I collected the themes of digital art since the 1950s to present day and used modernism, post-modernism, and "metamodernism" to contextualize the work. I then created a series of projects mixing and matching these themes. In addition to reading an endless amount of material, writing a thesis over 150 pages, scrolling for hours and hours through sites like giphy.com, much of my methodology consisted of research through making. Like the Internet, these projects are dynamic, prolific, some even elusive, ultimately functioning as a robust cultural narrative.