CLIENT NEEDS:
IKONIX, an electrical safety testing company, seeked a brand refresh/complete rebrand of three of their company branches: Associated Research, Associated Power Technologies, and Slaughter Company.
DESIGN SOLUTION:
Using a minimal design with simple color palettes, modern typefaces, and concise layouts, the branding is now modern, clean, and easy to understand.
MY ROLE:
I was the lead designer at the esteemed Chicagoland ad agency Bee-Line Communications on this project from concept to completion. I created a new brand identity through the design of logos, print materials (brochures, business cards, letterheads), and web collateral (website layout).
CLIENT NEEDS:
Museum of Sex in New York City showcased an up and coming fashion line named Possessed by designer Grisel Lopez. Museum of Sex wanted promotional material that would be heavily advertised on social media platforms such as Facebook and Instagram. Moving forward, the Museum of Sex and I have partnered to create a splinter instagram @museumofsexnow to promote events, retail, and current exhibitions.
DESIGN SOLUTION:
Rather than designing a static flier, I created a short, abstract video to pique interest. Possessed exhibited their newest snakeskin collection and therefore I incorporated snakes accompanied with an Amazonian jungle theme.
MY ROLE:
I was the sole designer on the videos, choosing and editing the clips in addition to selecting the music. I now function as a brand strategist, design consultant, and social media manager for their newly launched Instagram @museumofsexnow.
CLIENT NEEDS:
Museum of Sex needed a presentation deck for current and potential clients inquiring about hosting private events at the Museum. The presentation deck needed to be appropriate for a wide variety of audiences, yet consistent with the Museum of Sex brand.
DESIGN SOLUTION:
Through the bold and deliberate use of photography, clean layout, and typographic selection, the presentation deck feels sophisticated, yet seductive. The largely image-driven design makes it approachable to the reader.
MY ROLE:
I was the designer on the presentation deck - selecting images and type in accordance with the established brand guidelines. I wrote original copy and edited pre-existing copy.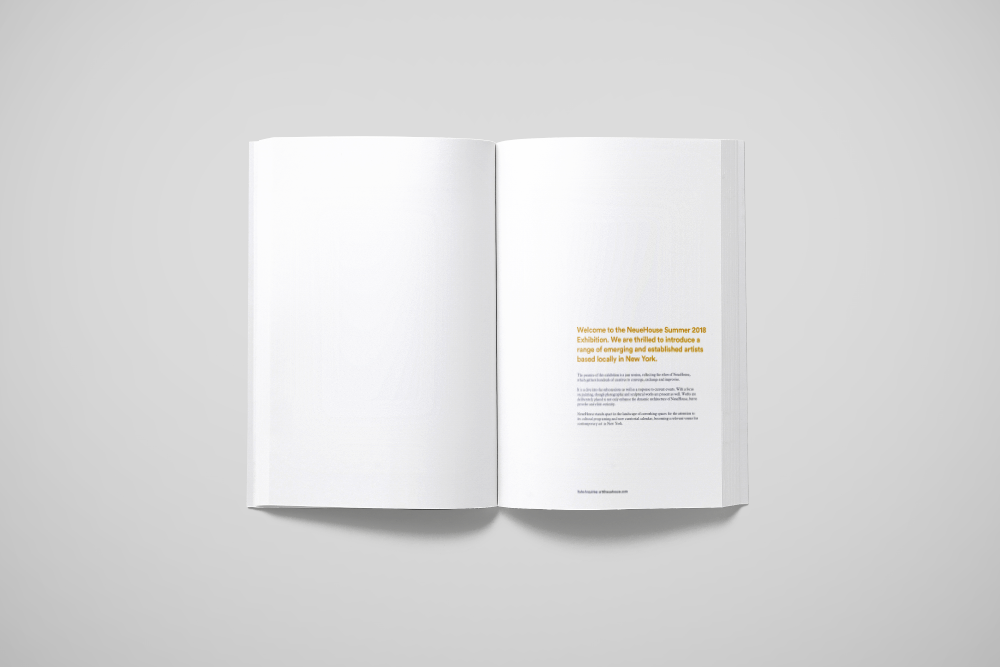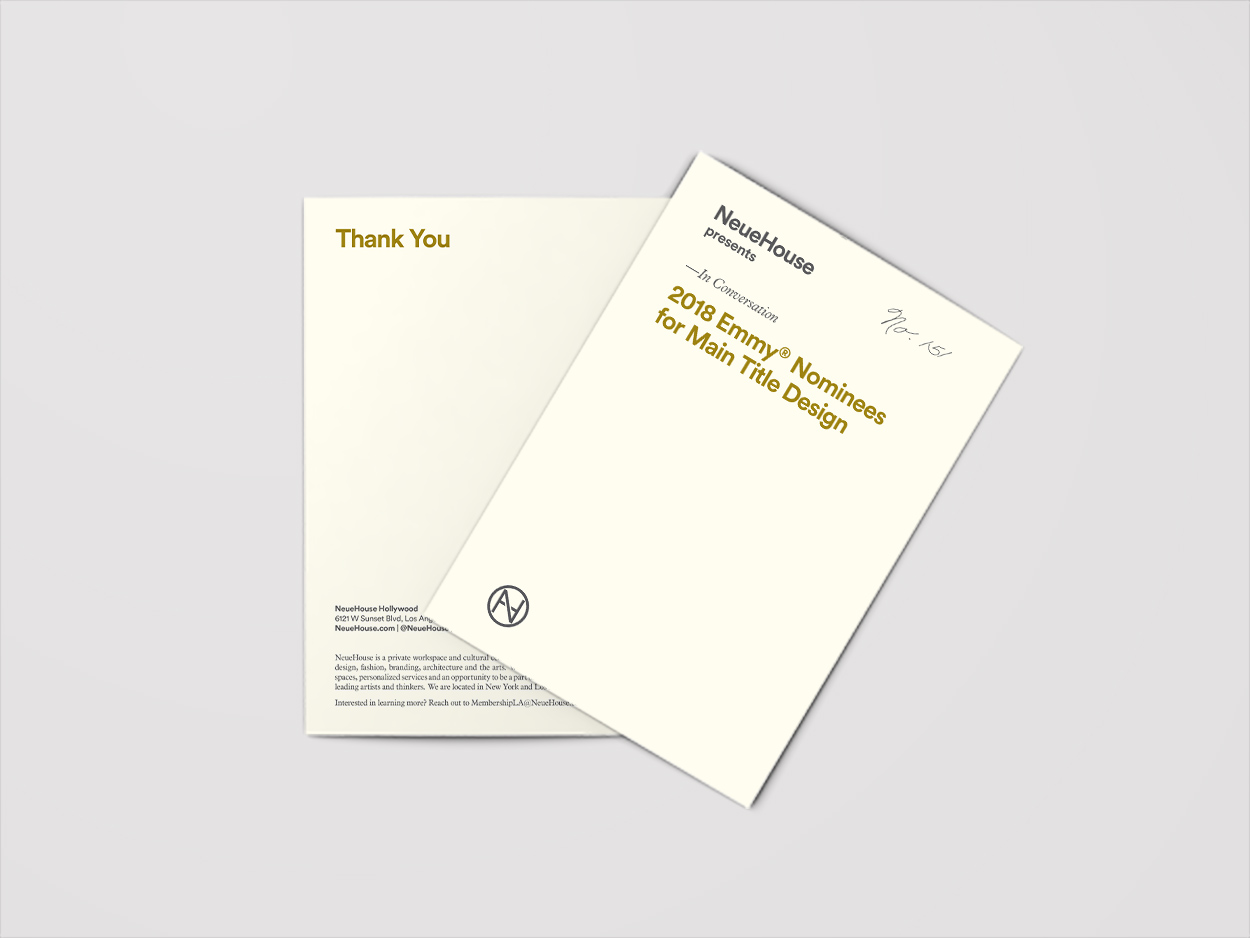 IN-HOUSE NEEDS:
NeueHouse is a private co-working space offering exclusive, world-class programming and hospitality to its membership. With locations in Madison Square and Hollywood, California, NeueHouse has been home to movie premieres, New York Times' panels, and discussions with acclaimed creatives such as fashion icon Diane von Furstenberg and the prominent Chinese artist Ai Wei Wei.
With its far and wide range of services, NeueHouse needed external and internal collateral for their monthly programming such as partner e-invites, folded calendars, brochures, and projeted slides to accompany each event.
Further, the restaurant in Madison Square wanted to update their menus and signage to coincide with the launch of their much anticipated seasonal menu.
NeueHouse, also functioning as a curated gallery, needed an Art Program detailing work for sale for members to purchase.
DESIGN SOLUTION:
Working within NeueHouse's well-established aesthetic, I created partner e-invites, folded calendars, brochures, and slides for both the Madison Square and Hollywood locations. I introduced both found and original GIFs into their programming collateral, thus modernizing the brand's communication.
In order to refresh the menus and additional F&B collateral (such as table numbers, menu boards, wine book, and weekly specials), I combined hand-done illustrations with an elegant layout and a meticulous typographic treatment to ensure brand consistency.
I worked within brand guidelines and drew inspiration from high-end art coffee table books to inform the aesthetic of the aforementioned Art Program.
MY ROLE:
I worked directly with the art director of NeueHouse creating and executing original concepts, writing copy, and streamlining processes, while also strategizing external and internal communication with the Chief Brand Officer to equip NeueHouse with a competitive advantage in its future pursuits.
CLIENT NEEDS:
Diamond distributor WRCOBB wanted a digital tool to assist in the customization of diamond rings. They aspired to then pitch this service to Neiman Marcus, while needing to align the subsequent app with the aesthetic of the Neiman Marcus brand.
DESIGN SOLUTION:
We first created a detailed mobile and desktop app, guiding users to choose a stone, ring, and setting. Using pale blues, gradients, and extensive user testing, the UI/UX is clear, beautiful, and easy to use.
Through researching Neiman Marcus' web and print collateral, the diamond customization tool successfully mirrors typefaces, color palettes, and general layout of the upscale Neiman Marcus brand, while also functioning parallel to the original app we created.
MY ROLE:
I worked with a team of designers to execute the UI/UX for the WRCOBB app. From there, I was the lead designer creating the UI/UX design to fit on the Neiman Marcus website. This project was completed while I was employed at Bee Line Communications.
CLIENT NEEDS:
IRhythm, a healthcare company providing state of the art heart monitoring technologies, wanted a catalogue and web banners matching their aesthetic.
DESIGN SOLUTION:
Through an exhaustive analysis of their already created material, the design for the supportive collateral used similar photography, typefaces, and color scheme to reinforce the brand.
MY ROLE:
I was the sole designer of the catalogue and one of three supportive designers in the creation of complimentary web banners. This project was completed while I worked for Bee Line Communications.
CLIENT NEEDS:
The managers at Wilmot Mountain in Wisconsin, seeked a refreshed brand identity that could be applied across web platforms and print material. Wilmot Mountain wanted to evolve toward a brand that matched their family friendly services of skiing, snowboarding, and tubing.
DESIGN SOLUTION:
The typefaces, colorful patterns, and illustrated elements contribute to a playful design, appealing to children, adults, and families.
MY ROLE:
I was the lead designer on this project, aesthetically pairing web concepts with brochures and potential print advertisements. I worked on this project while at Bee Line Communications.
CLIENT NEEDS:
Beermann Law, a Chicago based divorce attorney, seeked to refresh their brand both through visual design and copy. They wanted their brand to feel safe, modern, and respectful of couples who were considering a divorce.
DESIGN/COPY SOLUTION:
The simple use of text overlayed onto photography and the use of white space achieve the desired impact of the brand feeling secure and empathetic. The copy is comforting, sensitive, and considerate toward potential clients who are dealing with the prospect of divorce.
MY ROLE:
I designed and wrote the complimentary copy for potential print advertisements, while working at Bee-Line Communications.
CLIENT NEEDS:
Jaffa Salads is a Chicagoland Pita Chip company that has unique Hummus and Guacamole Recipes. They wanted a brand that felt fresh, organic, and elegant. These are the front and side labels that are used on a snack pack for 4 flavors of their Pita Chips.
DESIGN SOLUTION:
Using hand-done illustrations, pattern, white space, and a modern typeface, the result matches the client's branding goal.
MY ROLE:
I designed the front and side labels, working directly with the client to match their needs.